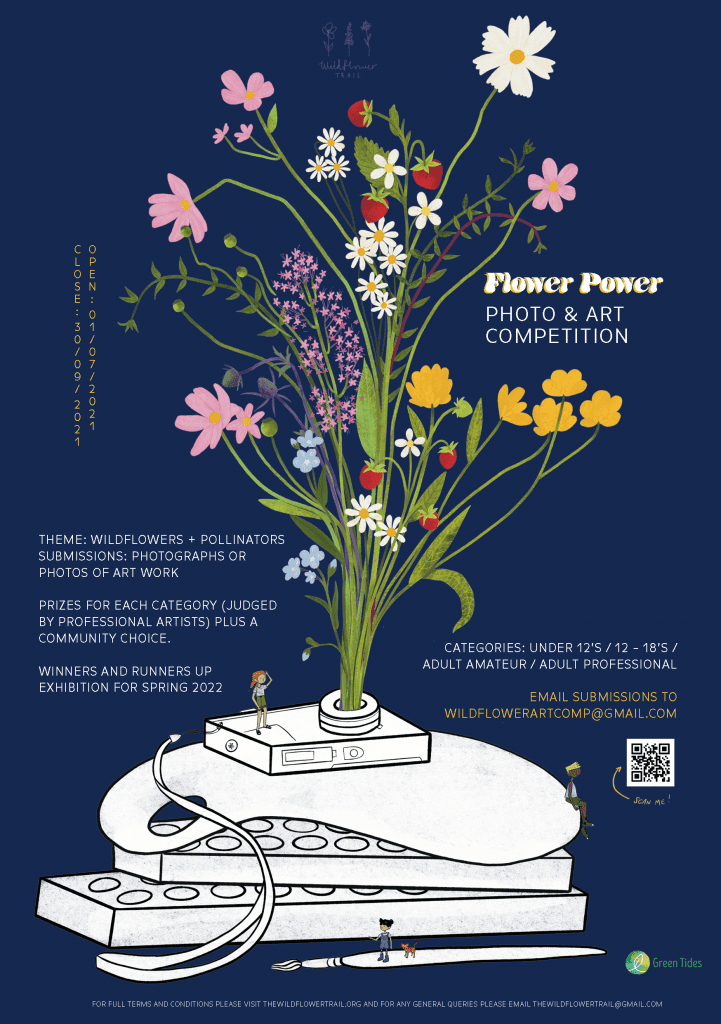 The Wildflower Trail – Art Competition 2021
INFORMATION FOR ENTRANTS
Thanks for your interest in the first Wildflower Trail Art Competition, with our theme this year of Wildflowers and Pollinators. We are aiming to really celebrate the diversity and joy that wildflowers can bring to our communities, as well as our insect friends. Our contact email is wildflowerartcomp@gmail.com.
The Wildflower Trail is a project by Green Tides, a local not-for-profit organisation supporting our Friends and environmental volunteer groups across Adur and Worthing. We raise funds to deliver essential free training, bring projects to life and support groups with their amazing efforts. To find out more about our work visit www.greentides.org.uk.
CATEGORIES
There are four categories for entrants this year.
Adult – professional artists or photographers
Adult – amateur artists or photographers
12-18 years old
Under 12s
In each category there will be a winner, runner-up and highly commended as judged by local professionals and Green Tides. All selected artworks will be presented to the public to choose the Community Choice.
SUBMISSION OF ARTWORKS
Entrants may submit one artwork or photograph in one category only. Submissions should be photographs of artwork or photos emailed to wildflowerartcomp@gmail.com. The images should be no larger than 5mb in jpeg format. Please include your name, contact email, category you are submitting under and a paragraph about what inspires you and your work.
Winning artworks and images will be exhibited. For the final exhibition(s), artists will be asked to submit their original artwork. No single submission should be larger than 100cm x 100cm.
SUBMISSION PERIOD
Submission for the competition opens on Thursday 1st July and closes on Thursday 30th September 2021. No submissions can be accepted after that date.
SELECTION OF IMAGES
All images submitted will be judged under their category. The artworks will be shortlisted by Green Tides. All shortlisted work will be judged by Green Tides and local professional artists.
A winner, runner-up and highly commended will be awarded in each category.
Winners, runner-up and highly commended will be notified by Green Tides and The Wildflower Trail within one week of the judging. The judging date will be confirmed in due course.
PUBLIC VOTE
The public vote opens Tuesday 1st February 2022 and closes Tuesday 1st March 2022.
The Winners from each category will be voted on by the public. Their favourite will be chosen as the Community Choice Winner. Our Green Tides members will also be invited to choose their overall favourite.
The winner will be notified by the Wildflower Trail within one week of the voting closing.
All artworks whose images are chosen will be exhibited during Spring 2022. Please ensure that artworks will be available for display.
USE OF IMAGES – TERMS AND CONDITIONS
By submitting your images, you agree to grant Green Tides and The Wildflower Trail a perpetual, royalty-free, non-exclusive, license to use, reproduce, modify, adapt, publish, distribute, make available to the public, and exercise all copyright and publicity rights with respect to your images for the purpose of promoting and selling of Green Tides and the Wildflower Trail promotional material only.
Green Tides and The Wildflower Trail will likely use submitted images to develop promotional materials, such as calendars or cards. We sell these to raise funds, which then support our Friends and environmental volunteer groups in Adur and Worthing. For more information about how we use our funding, please visit: www.greentides.org.uk.
If you do not want to grant to Green Tides and The Wildflower Trail the rights set out above, please do not submit your images to Green Tides or The Wildflower Trail.
PRIZES
All winners, runners-up and highly commended will be exhibited during the springtime of 2022. We are currently organising these exhibitions and will provide further details in due course.
Green Tides and The Wildflower Trail are also working on more prizes for the winners in each category and the Community Choice award. We already have some great goodies on top of the exhibitions next year and will be releasing details throughout the competition period.
Green Tides are seeking more sponsors, so please get in touch if you want to help out.
Thanks again for your interest and we all hope you enjoy being creative and inspired by our wonderful wildflowers and their pollinators, everyone at Green Tides.